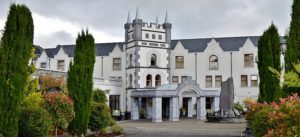 Come visit us in Killarney on the 27th of April.
Muckross Park Hotel & Spa Killarney
Muckross Lodge, Muckross Rd, Muckross,
Killarney
Co. Kerry

Find out about our advanced surveying products including Total Stations, GPS, HDS Laser Scanners & GPR, and Laser Levels.
We will be also showcasing the following:
Leica BLK 360
The smallest and easiest to use imaging laser scanner in the world
SmartPlanes
The Freya is our latest fixed wing UAV
TinyMobile Robots
Ideal for height measurement & premarking (Tiny Surveyor & Tiny Premarker)
Leica GS18T
The world's fastest and easiest-to-use GNSS RTK rover, the Leica GS18 T. Now you can measure any point faster and easier without the need to hold the pole vertical.
 For further information, please contact Natalia from our Cork Office 021 423 2957