Leica Lino L2 Line Laser
€220.00 excl VAT (€270.60 incl VAT)
Description
The perfect tools for alignments
Avoid time consuming line drawings on walls with the use of the Leica Lino L2. This modern device projects accurate laser lines quickly and effortlessly and increases your efficiency to help you get the job done.
Advantages of the L2 Point Laser
Power-saving mode and pulse function
Ergonomic and stylish housing
Precise 90° angles
Sizeable lens
Simple and easy to use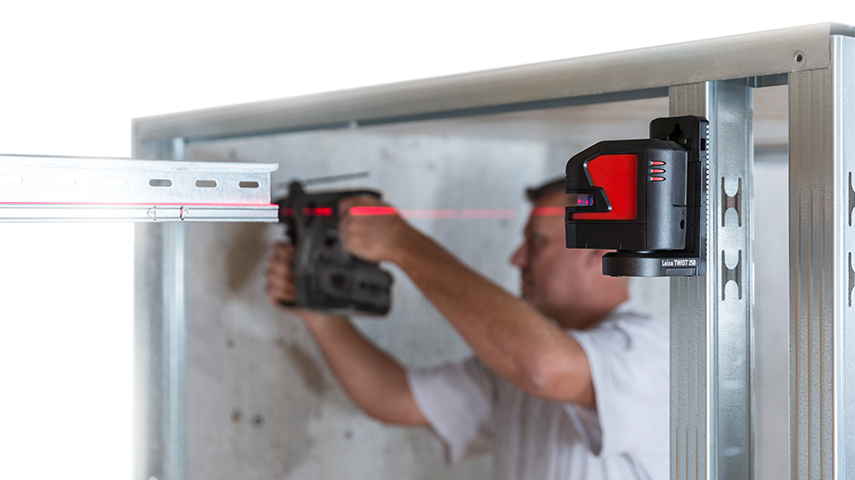 Dedicated for:
Horizontal alignments
There is no need to use a string line or spirit level again as the Leica Lino L2 quickly and easily transfers reference points across the room from one wall to another.
Vertical alignments
Theglass lens helps the floor and wall tile joints meet together accurately and with great ease.
Perfect 90° angle
With the touch of just one button, marking out alignment tasks can be done which save you time when you need it.
Angle alignments 
With the use of the lock feature, you can manually turn off the self-levelling function. The laser beam and then be pointed and projected and angle desired angle. The lock function also provides protection when the device is being transported.
Working in adverse light conditions
The Pulse Function saves energy and in very bright light conditions the detector can locate the laser lines. Acoustic signals given from the laser detector show the position of the laser beam plane accurately.
Additional Information
Features:
Range up to 15 metres if light conditions are favourable
Range with the use of the detector Up to 30 metres
Levelling accuracy at 5 metres ± 1.5 millimetres
Range of self-levelling 4° ± 0.5°
Plumb point @ 5 metres accuracy ± 1.5 millimetres
Number of laser points 2
Direction of beam Up and down
Type of laser laser class II, 635 nm
Batteries 3 × AA type 1.5 V
Protection class IP54 Splash water / dust proof
Temperature (operating) 40 °C to –10 °C
Temperature (storage) 70 °C to –25 °C
Dimensions (Depth × Width x Height) 91 x 54 x 96 millimetres
Weight (no batteries) 321 grams
Kit Include:
Leica Lino L2 Line Laser
Target plate
Multifunction adapter (Magnetic)
Ball adapter for use with tripod
3x AA type alkaline batteries
Protective pouch
Downloads
Have a question?
Speak to our specialist today.
Contact Us