DPI-8X SR Handheld 3D Scanner
Price on Application
Description
A handheld self-contained 3D Scanner, based on Android.
For construction a good answer right now beats a great answer next week. DotProduct delivers a color point cloud in the field that's ready immediately. Applications range from creating and validating BIM and MEP data to fabrication verification to coordination and construction verification. High costs have limited the use of 3D laser scanning for most architects — we've changed the rules with a $5k price point. Capturing architectural detail and creating as-builts for renovation projects is now affordable.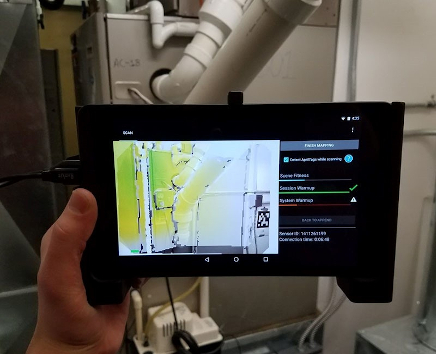 Expedite and augment your BIM workflow with handheld 3D capture
If you are already using laser scanning for BIM, Phi.3D technology will decrease cost, strengthen results, and improve efficiency. If you are new to laser scanning, Phi.3D will offer you a powerful, cost-effective solution on small-to-medium sized projects. The DotProduct DPI-8X will capture hard-to reach areas, document periodic changes, fill in the gaps of tripod scanners, and offer a stand-alone solution on small jobs. Our output formats (PTS, PTX, PLY, PTG, DP) connect directly to common industry solutions including Autodesk ReCap, Trimble RealWorks, AVEVA LFM, Leica Cyclone, and many others.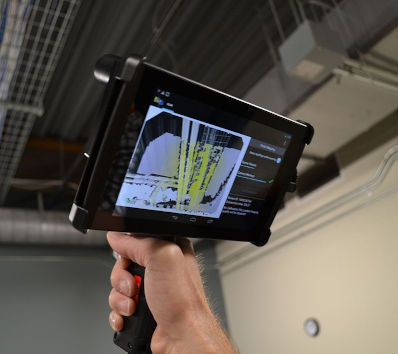 Capture as-built MEP in the field, and review on the tablet in real time
From mechanical room documentation, to engineering design, clash detection, and HVAC system management, DotProduct provides real-time 3D deliverables for your workflow. You know before you leave the jobsite that you've captured what you need. All data processing can be done on the tablet, on the jobsite. There's no need to send your data up to the cloud for processing. You can even pull measurements on the tablet in the field, and our small file sizes allow you to communicate the results to project team members around the world in seconds.
Additional Information
Features:
Screen Size –

 8 inch

Device Size – 23 x 27 x 8 cm
Interfaces – USB, Wi-Fi
Capacity – 16 GB or 32 GB
Export Formats: DP, PTS, PTX, PLY, PTG, & E57 (via converter)
Sensor Range – 30 cm to 180 m (1 to 6 ft.)
Op. Temperature – 5 to 33 deg C (41-91 F)
Horizontal FOV –  57.5 deg
Point Density – 1.7mm at 1m distance, 3.4mm at 2m distance
Power Supply – Using tablet battery
Full 6-dof, mm-accurate indoor positioning.
Realtime markerless camera tracking.
Instant data capture colour 3D data with full freedom of motion.
Have a question?
Speak to our specialist today.
Contact Us