Leica Disto X4
€355.00 excl VAT (€436.65 incl VAT)
Out of stock
Description
Designed for bright, outdoor environments
The Pointfinder camera allows you to precisely target and measures distant objects in bright sunlight. The target object shows clearly on the Disto's high-resolution screen.  This Disto is drop-tested up to 2 m in height, water jet, and dust protected. With an IP65 rating, you can clean it under running water.
Transform your Disto X4 into a real measurement station with the DST 360. It allows you to measure distances between any two points, from one position.  The all-new Disto X4 uses the best materials to ensure consistent measurement results in different environments.  A precision product you can trust!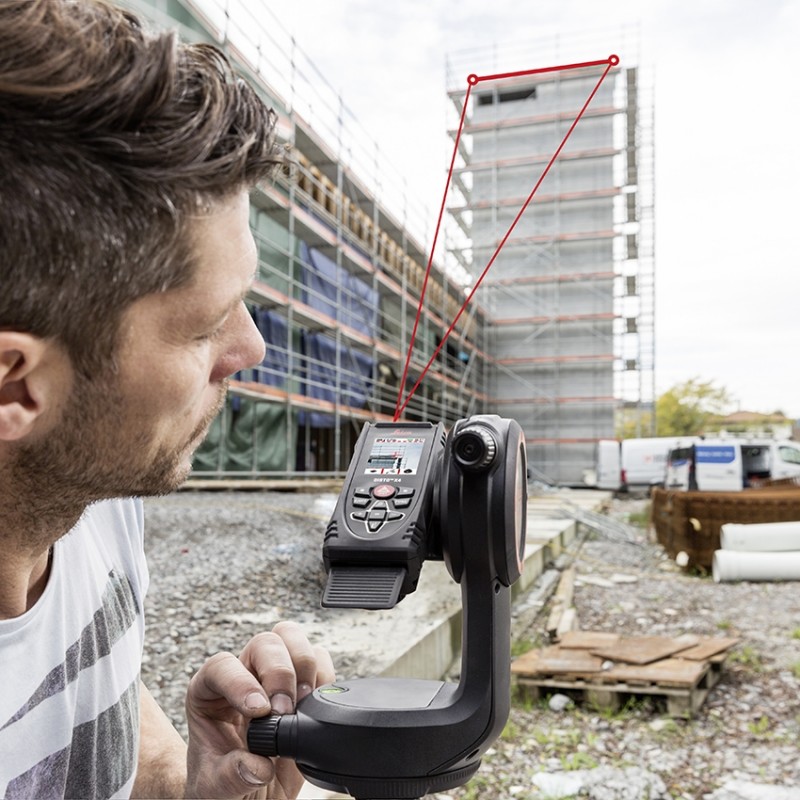 Easily document and visualise your measurements
App includes in app purchase
Sketch your plan 
Create a sketch on your smartphone or tablet and then assign distance measurements taken with your DISTO™ to each line. The app's 'auto-scale' function adjusts the lines' length and the result is a scaled, CAD ready plan.
Smart Room 
Create CAD ready floor plans with your DISTO™ X3 or X4 simply by taking clockwise or counter-clockwise measurements of a room. Once all measurements are taken, the app's Smart Room function automatically generates the plan.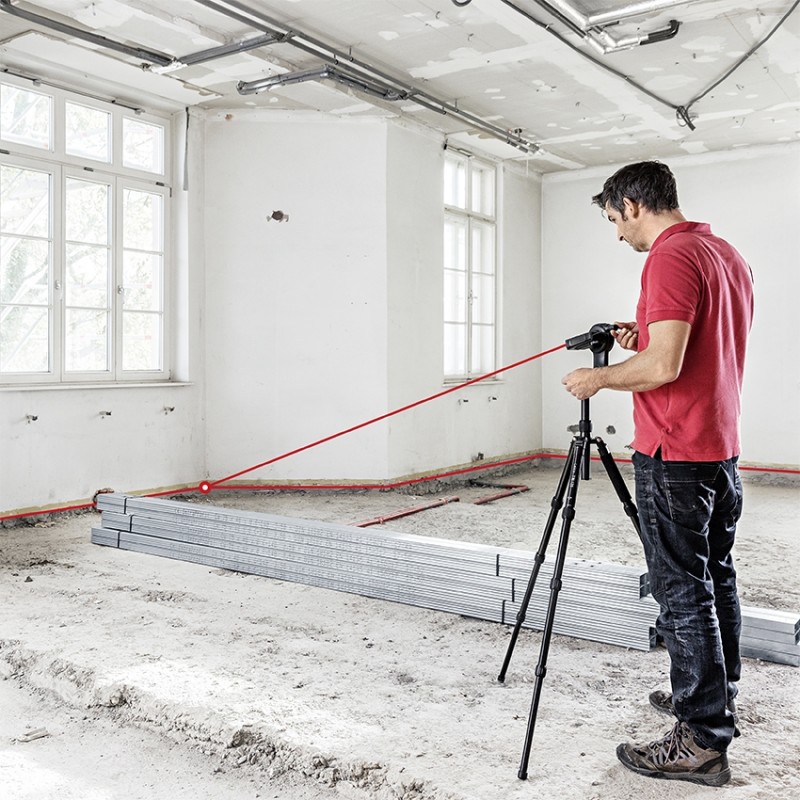 Measure & Plan 
Point to Point technology and the app's 'Measure Plan' and 'Measure Façade' functions make it possible to create detailed floor and wall plans, including doors and windows. You can export your plans from devices which support this functionality as dxf or dwg files directly into your preferred CAD solution.
Measure hidden corners
The DISTO™ Plan App's 'Measure Façade' function makes it easy to measure points which are hidden behind objects. Simply take your measurements and the app then automatically calculates the hidden points.
Sketch on photo 
Leica DISTO™ Bluetooth® Smart technology allows you to assign distance measurements to the appropriate part of a photo taken with your tablet or smartphone.
Additional Information
Features: 
150 m range
Outdoor measurements with Digital Pointinder (4x zoom)
Bluetooth technology enable transfer of measurements to FREE DISTO Apps
80% longer flip-out end-piece
Clear, illuminated 3 line display
Fast and intuitive with easy to use buttons and functions
Very robust, drop tested to 2m, waterproof – IP 65 water jet and dust protected.
Tilt sensor accuracy to the housing – ± 0.2°
Smart Base measuring range: Horizontal – 360° for use with Leica DST 360
Smart Base measuring range: Vertical – -64° to > 90° for use with Leica DST 360
Typ. tolerance of the P2P function for use with Leica DST 360 – ± 2mm at 2m, 5mm at 5m, 10mm at 10m
Levelling range – 5° for use with Leica DST 360
Pointfinder with zoom – 4x
Kit Include:
Leica DISTO™ X4
Handloop
Pouch
2xAA batteries
Calibration Certificate Silver
Quickstart
Downloads
Have a question?
Speak to our specialist today.
Contact Us